Portable Quick Lift is a one-time assembly that is practical and lightweight. You just need to put the lift under the car and press the "L" button on the portable pendant control panel. The entire car will be lifted to 533mm / 21 inches above the ground in less than a minute, and then can be tire change, chassis adjustment or other maintenance work.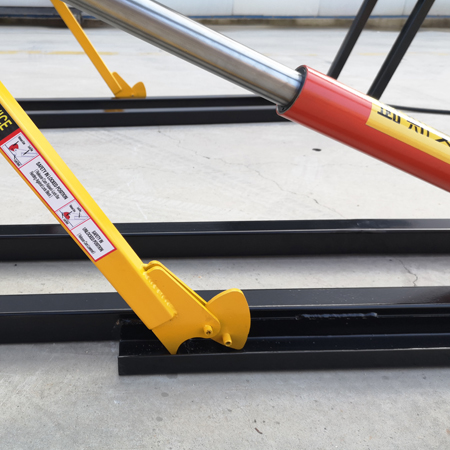 1. Place the Portable Quick Lift racks in parallel and position them.
The lift should be placed on a stable surface with the two safety latches facing outward.
2. Connect the quick connector.
Connect the hose of the power unit and connect it with the quick-connect connector and the lift frame.
3. Connect the power unit to the appropriate power source.
Connect it to the appropriate power source, depending on the selected power unit model.
4. Place the vehicle between the express passenger lifts.
Place the lift under the car and make sure the rubber lift block is at the recommended lift or other support point.
5. The car can be lifted in minutes.
Press and hold the "L" button on the control panel until the lift platform reaches the middle or full height lock position.
Very easy to put away and store. It takes less time to put up and store the Portable Quick Lift than the microwave oven has left the leftovers. After the first installation, it is easy to use the lift and then lift the lift.
1. Press the "L" button to trip the safety latch
When the lift is lowered, lift the safety latch from the lock so that it can be released from the locked position.
2. Press "Down" until the lift completely landed
Press and hold the button until the lift is fully closed. The cylinder will assist in the final landing.
3. Disconnect and close the long hose and power unit
Quick couplings ensure that hydraulic fluid does not leak into the work area. Don't forget to install a protective dust cover!
4. Slide the lift out and move it to your desired storage location
How to store Portable Quick Lift is entirely up to you. Many customers have sent us photos of their tools. It can be placed under the car, stand up or hung up. This tool is not so fragile, don't be afraid to move it.