1. Do not install the lift on asphalt tarmac. The thickness of the concrete must meet the requirements.
2. Read and understand the safety instructions before operating the lift.
3. If the lift is not customized for special customer needs, it is generally not used outdoors.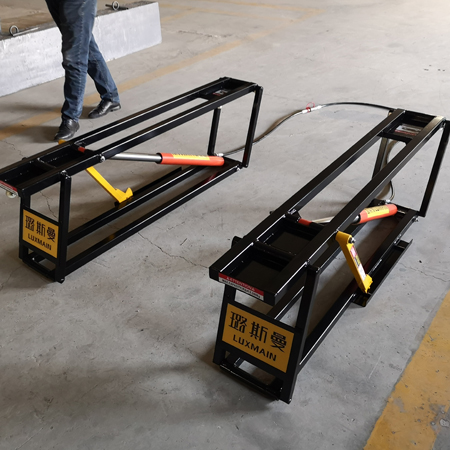 4. Keep your hands and feet away from the moving parts of the lift. When the machine is lowered, remove your hands and feet to avoid being crushed.
5. Only professionally trained personnel can operate and use the lift.
6. The operator is not allowed to wear fat clothes to avoid being caught by the moving parts during the lifting process.
7. The surrounding of the Portable Quick Lift must be kept clean and tidy, so that no debris can be stacked to avoid accidents.
8. The design of the lift is to lift the vehicle as a whole, not a part; do not attempt to lift a vehicle that exceeds the rated lift weight.
9. When working under the car, make sure that the safety lock of the lift is in the engaged state.
10. If the machine is not used for a long time, the user wants
a. cut off the power
b. Venting the hydraulic oil
c. Moving parts are lubricated with hydraulic oil
11. Check the parts for damage at any time, check the synchronism of the machine and the flexibility of the moving parts, and pay attention to regular maintenance. If abnormal conditions are found, stop using them immediately and contact the dealer.
12. Minimize the machine and turn off the power after the operation.
13. Do not modify the components of the lift without the manufacturer's permission.
14. The lifting mat of Portable Quick Lift must be placed in the position recommended by the vehicle manufacturer, and then slowly lift the vehicle to ensure that it will not tilt, tip over, and fall off to the desired height.